RV Cablemaster - Model CRMA-50 With RV Cable
CRRA50-12-50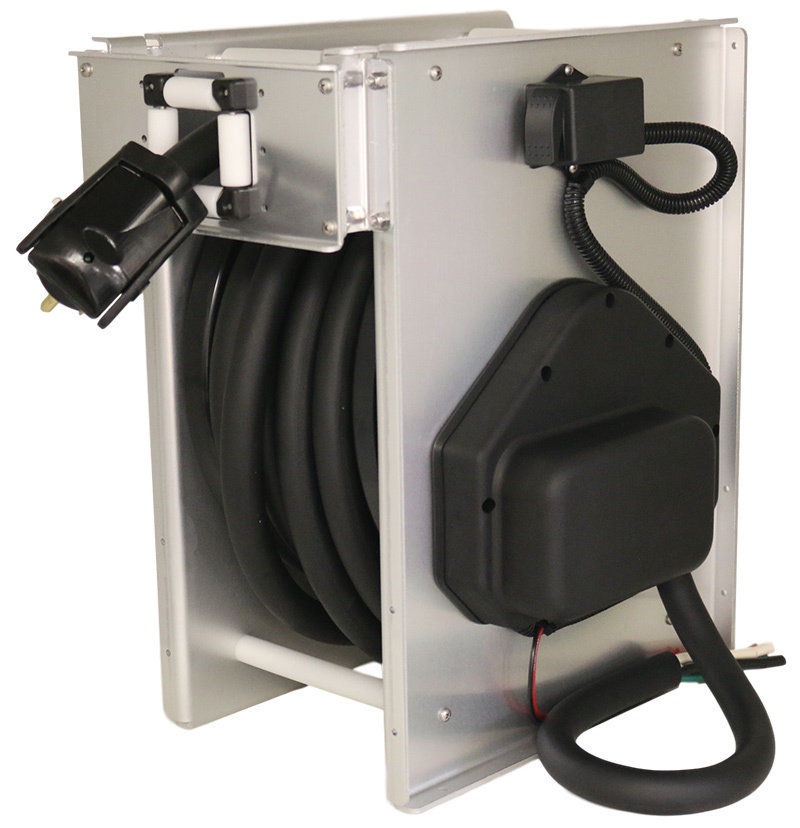 Glendinning Cablemaster is now available in 50 foot lengths for your RV!
The Glendinning Cablemaster is absolutely the easiest way to handle your bulky RV power cable - now available with industry leading lengths!

Say goodby to RV extension cords! Glendinning Cablemaster Model CRRA50 gives you more range than almost any power cable setups with standard features including:
Zero Effort Cable Extension: When you want to extend your power cable, simply pull it out. The "Zero Effort" retraction motor is completely disconnected from the hub, making it extremely easy to pull out your cable.
Motorized Cable Retraction: When it's time to retract the cable, press the button. The nearly silent retraction motor will automatically engage and retract the cable back into the coach.
EZ Unplug Lever: Easily disconnect from your campsite receptacle.
Power Indicator LED: Simple reference of sufficient power
Integrated Guide Roller: While the cable is retracting the integrated "Guide Roller" will automatically guide the cable onto the hub (drum)
Most Pliable Cord In The Industry!: The CRRA50 Cablemaster is equipped with 50 feet of "Type SOW" power cable - the most flexible power cable on the market - it will stay flexible down to 10 degrees below zero.
No Sharp Edges: Sleek, seamless design with no dangerous protruding edges.
NOTE: THIS UNIT IS NOT RATED FOR MARINE USE.
NOTE: DUE TO CURRENT ORDER QUANTITIES THIS PRODUCT IS BUILT TO ORDER AND MAY TAKE UP 7 BUSINESS DAYS TO SHIP.